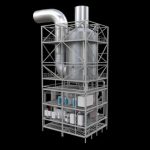 The year 2020 is approaching along with the Sulphur cap regulation of 0.5%, putting pressure on maritime agents to decrease emissions – and to utilise new innovations for environmentally sound vessels and services in the marine industry. A major European container shipping company has ordered Wärtsilä's hybrid exhaust gas cleaning equipment and retrofit services to its container vessels, worth EUR 170 million.
Wärtsilä Services will deliver 50 MW, 60 MW and 70 MW Wärtsilä hybrid scrubber systems which will be retrofitted to its container vessels. These are solutions which have the flexibility to operate in both open and closed loop. When operating in open loop mode, it uses seawater and in closed loop mode seawater with an additional reagent to remove SOx from the exhaust, helping to reduce emissions in coastal and sea areas. Wärtsilä will also provide engineering and site advisory services for the vessels.
Utilising Wärtsilä's new scrubber unit design, water cleaning system mode, and the engineering and advisory services will allow more operational efficiency and compliance with the new IMO Marpol regulation's emission level.
The IMO Marpol regulation coming into effect on 1 January 2020 sets a new scene for players in the maritime industry to provide low-emission and environmentally friendly solutions.
Wärtsilä is striving for sustainable performance and works towards a zero-emission society. Wärtsilä also welcomes the new IMO regulation for reducing greenhouse gas emissions by 50 per cent from 2008 levels by 2050.
"Our exhaust gas cleaning system will not only help our customers' vessels run on lower emissions but significantly improves the air quality and emission level in coastal and sea areas in general. By providing energy-efficient, innovative and flexible solutions that lower environmental impact through reduced or eliminated emissions, we aim to enable a sustainable future for next generations," says Markus Ljungkvist, General Manager of Project Sales at Wärtsilä Services.
Press Release: wartsila.com

Source: Maritime Shipping News